Things to Know Before Relocating to Abu Dhabi
Different people relocate to different parts of the world due to various reasons; recently there has been an increase in the number of individuals relocating to Abu Dhabi. Undoubtedly, Abu Dhabi is a beautiful tourist attraction centre with lots of opportunities for everyone. Prior to relocating to any country, there are important things to bear in mind to ensure you don't find it difficult blending into the existing system of the country.
Some of the essential things everyone needs to know about Abu Dhabi prior to relocating there, include the following;
There are many job opportunities in Abu Dhabi. However, most professionals secure an employment contract before relocating to arriving in the city. The employer or organization you have made the decision to work with handles the processing of your residency visa once you arrive in Abu Dhabi. All employment contracts in Abu Dhabi include return flight tickets, a tax-free salary, and access to comprehensive healthcare and housing facilities. Nonetheless, you can also obtain an employment after you have arrived in Abu Dhabi; there are different online websites that post vacancies regularly. Vacancies are often available in marketing, law, education, hospitality, construction, amongst others.
Contrary to the belief that you can't socialize or have a good time in Abu Dhabi, there are many nightclubs and bars that stay open till late time periods at night. However, you need to get an alcohol license to purchase alcohol in the city; the license can be processed when you have received a residency visa in Abu Dhabi.
Before relocating to the city, it is important to attest all certificates, educational qualifications, and other essential documents. The documents must be authenticated at the department of foreign affairs in your country as well as the UAE embassy in your country.
An important aspect that must not be neglected is the aspect of saving and sending money back home. People often get carried away with the fact that they earn a tax-free salary; you must cultivate the habit of saving in Abu Dhabi. A suitable suggestion is opening a CurencyFair account, their fees are reasonable.
You should bear in mind that Abu Dhabi is a Muslim country, which means they adhere strictly to the teachings of the Holy Quran. You should be religious tolerant to enjoy your stay in Abu Dhabi. The city is however multicultural and allows the practice of different religions.
Abu Dhabi is situated in the desert, which means the weather condition is usually hot. For instance, during summer the temperature is usually above 40 degrees every day. There is availability of an air conditioning system to help you cope with the harsh weather condition. The use of an air conditioning system is the norm in Abu Dhabi; you'll hardly experience it because you'll move from one air conditioned environment to the other. However, you'll enjoy a fair weather from October to March.
            As mentioned earlier, expats stand to enjoy many benefits from living in Abu Dhabi which range from a unique lifestyle, a tax-free salary, comprehensive housing and health facilities, amongst others, however, there are specific requirements for relocating to Abu Dhabi, and it's important for every expat to adhere to them. Some of them include the following;
All expats must ensure they obtain employment before relocating to Abu Dhabi. To enjoy your stay in the city you need the sponsor of your employer to help you with the resident visa process. Being sponsored by your employer enables you to enjoy other perks associated with your place of employment. Job vacancies are usually available in construction, academics, nuclear plants, and oil companies.
Expats will enjoy living in the city because it is multicultural and diverse. It's a city with people from different parts of the world with diverse culture and religion. Everyone in the city gets along very well irrespective of your cultural or religious background. It is important for an expat to be religion and culture tolerant if you plan to enjoy your stay in Abu Dhabi. If you are likely to encounter any form of difficulty from such diversity, then Abu Dhabi is not a place for you.
Before relocating to Abu Dhabi, it's vital to negotiate a comprehensive and detailed relocation package with your prospective employer. The relocation package should include housing, travel, transportation and school allowance. The standard of living in Abu Dhabi is quite expensive, thus ensure you negotiate for a good salary package before making the final decision to relocate to the city.
Most expats in Abu Dhabi have stated the importance of joining a club, sports or any form of association to help you with settling in the city. There are many clubs for people from different parts of the world. Some clubs welcome people from different parts of the country, there are clubs for men, women, and for both men and women. There are different international schools in Abu Dhabi; examples include American International school of Abu Dhabi.
It might be difficult to enjoy platonic relationships between opposite sexes in Abu Dhabi. The Abu Dhabi culture doesn't embrace the concept of this type of relationship. The women in the city are often preoccupied with family obligations. They hardly move to different areas without being accompanied by a male family member, thus, it's extremely rare to find ladies hanging out together for coffee or lunch.
All expats should take time to know more about the Abu Dhabi culture. For instance, you should never shake another person's hand with your left hand; Emiratis believe many dirty things are done with the left hand. They are very sensitive to this especially when it comes down to eating. Expats should develop respect and appreciation for the culture of the Emiratis. Expats may visit music concerts, art galleries, and university lectures to develop a better understanding of the Abu Dhabi culture.
There is no limit to the wealth of opportunities available in Abu Dhabi.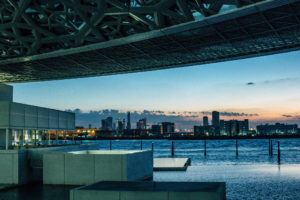 "Transition" (CC BY-SA 2.0) by Matthias Ripp